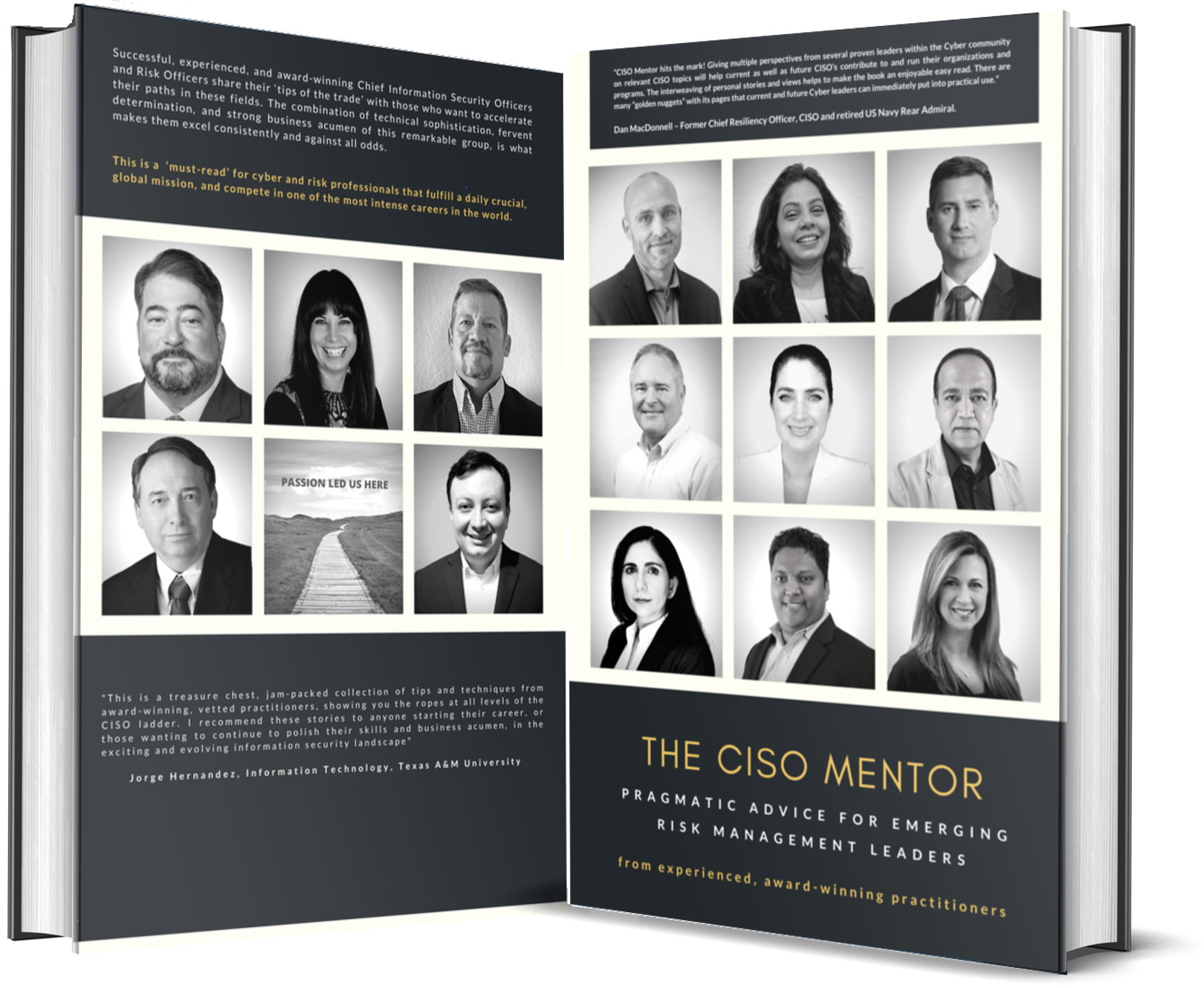 Successful, experienced, and award-winning Chief Information Security Officers and Risk Officers share their 'tips of the trade' with those who want to accelerate their paths in these fields. The combination of technical sophistication, fervent determination, and strong business acumen of this remarkable group, is what makes them excel consistently and against all odds.  
This is a  'must-read' for cyber and risk professionals that fulfill a daily crucial, global mission, and compete in one of the most intense careers in the world.

"CISO Mentor hits the mark! Giving multiple perspectives from several proven leaders within the Cyber community on relevant CISO topics will help current as well as future CISO's contribute to and run their organizations and programs. The interweaving of personal stories and views helps to make the book an enjoyable easy read. There are many "golden nuggets" with its pages that current and future Cyber leaders can immediately put into practical use."
Dan MacDonnell – Former Chief Resiliency Officer, CISO and retired US Navy Rear Admiral.

"This is a treasure chest, jam-packed collection of tips and techniques from award-winning, vetted practitioners, showing you the ropes at all levels of the CISO ladder. I recommend these stories to anyone starting their career, or those wanting to continue to polish their skills and business acumen, in the exciting and evolving information security landscape"
Jorge Hernandez, Information Technology, Texas A&M University

"Twelve years ago, I wished I had this book to help me navigate through my first CISO job. Back then, the "CISO" title is still an evolving role and there were not many of them. This book is not just a collection of stories nor a CISO primer – this is a treasure-trove for any cybersecurity professionals who are looking for that CISO blueprint. There is no single path to this role and there are numerous ways you can fail or succeed in this job. In this book, you will see the different paths taken by the authors, the challenges and obstacles they encountered and the different strategies they used to be successful at their jobs. This practical CISO leadership book will help aspiring cybersecurity professionals navigate their career as well as any experienced CISO to understand and apply the insights and pathways conveyed in this book."
CeciltheCISO is a Sr Director of Consulting Practice at Critical Start and former CISO at DFW Int'l Airport

"One of the biggest challenges in cybersecurity today is that we don't share our stories. The problem with this approach is that the next generation of cybersecurity professionals will have to learn all the same lessons from scratch. The CISO Mentor is the answer to this, sharing powerful insights from some of the best leaders in the cybersecurity field today. For anyone wanting to become a CISO this book is a must read "
George Finney, J.D., CISM, CISSP
Chief Security Officer
Southern Methodist University

"I am a fan of books that are written by practicing and experienced CISOs like CISO Mentor. I was not surprised to see that some of the authors are members of the CISO Executive Network. I am confident other CISOs, especially new and rising security leaders, will find it valuable to read CISO Mentor and glean the knowledge the authors have to offer. A recommended reading for any aspiring CISO."
Bill Sieglein, Founder, CISO Executive Network

"The personal journeys so well written in CISO Mentor bring to life the many paths to the complex CISO Role, as well as demonstrating the benefit of diverse backgrounds and experiences to achieve cybersecurity leadership success.
Todd Fitzgerald, author of best-selling CISO COMPASS: Navigating Cybersecurity Leadership Challenges with Insights from Pioneers